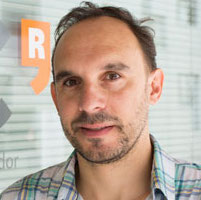 Fernando Vilariño
Project Leader and Associate Director at Computer Vision Centre, UAB.
+34 93 581 3841
fernando@cvc.uab.es
http://vi.cvc.uab.es/?page_id=86
Fernando Vilariño
QUÉ HAGO AQUÍ
"No puedo evitar preguntarme qué papel juega la tecnología en la construcción de una sociedad más justa y centrada en las personas. Una tecnología que ayude a desarrollarnos como seres humanos libres, capaces, ilusionados por transformar nuestra existencia hacia mejor, y de manera abierta y colaborativa. Enfocada en nuestras raíces y proyectada a lo que nosotros mismo decidamos ser.
Particularmente, no puedo dejar de preguntarme cómo la tecnología transforma la experiencia cultural de las personas.
Por ello, he participado en la concepción, el diseño y la implementación del Library Living Lab, con el objetivo de crear un auténtico laboratorio vivo de innovación social, donde la gente, toda la gente independientemente de cualquier etiqueta, se encuentra en el centro de la toma de decisiones.
Aquí, la tecnología, que conozco gracias a mi faceta profesional, es el elemento posibilitador de la innovación, y esta innovación busca impacto real: cultural, económico y político."
PEQUEÑA BIO
Fernando Vilariño is Associate Director of the Computer Vision Centre and Associate Professor of the Univ. Autònoma de Barcelona, Spain. He is currently lecturing in Robotics and Multimedia Systems. His research has been linked to diverse areas of Computer Vision and Machine Learning, with a particular focus on medical imaging. He has recently led different projects related to citizen science through the implementation of a model for Living Labs, and he has participated in the different workshops and talks in the context of ICT and culture. His current research is focused on the development of novel paradigms of responsive artworks using gaze interaction. Dr. Vilariño has been awarded with the Spanish Gov.Ramon y Cajal Grant (2010), and Google Academy Award (2014) for his research.